Could Record Inflows Be On the Horizon For ETFs?
November 11, 2020 at 14:56 PM EST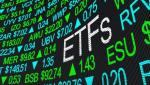 With a potentially promising coronavirus vaccine driving investors to rotate out of tech stocks, driving stock ETFs to robust gains this week, exchange-traded funds appear poised for a robust finish to 2020. On Wednesday, the S&P 500 climbed 0.81% while the recently downcast Nasdaq improved...